The reality: using QbTest reports in clinical practice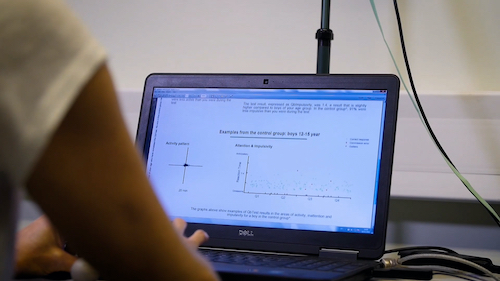 Clinical judgment is a core skill honed by experienced clinicians providing ADHD assessment and treatment. While clinical judgment is essential – based on feedback from subjective data (rating scales, interviews), many leading healthcare teams are adding objective data to enhance their understanding of patients' symptoms. Cork Child and Adolescent Mental Health Services (CAMHS) is one practice who have evolved their ADHD care pathway to incorporate objective data for ADHD assessment and treatment. This is their story…
Part One The QbTest reports – bringing ADHD symptoms to life
The QbTest report itself is a key reason services like Cork CAMHS feel it adds value not only for clinical purposes but also for psychoeducation with clients, families, and schools. It helps facilitate a discussion of clients' symptomatology, regardless of other factors.
The visual of the report itself, guided by the clinician facilitating the discussion can be easily understood by the clients. With QbTest, clinicians have a unique opportunity for clinical observation which adds further context, not only for the QbTest report, but also the other clinical information collated as part of an assessment.
Ella Lovett, Principal Clinical Psychologist
"The visual part of the report is incredibly valuable. One particular case sticks in my mind with QbTest. ADHD had never been considered for this particular client before; self harm and low mood was our primary concern. When we started talking to him, it was obvious that he was having…"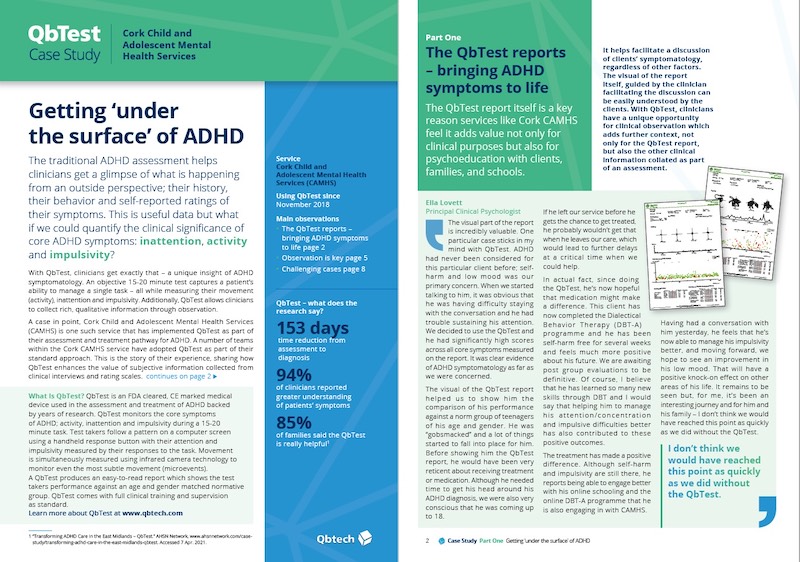 QbTest is an FDA cleared, CE marked medical device used in the assessment and treatment of ADHD backed by years of research. QbTest monitors the core symptoms of ADHD; activity, inattention and impulsivity during a 15-20minute task.
Test takers follow a pattern on a computer screen using a handheld response button with their attention and impulsivity measured by their responses to the task. Movement is simultaneously measured using infrared camera technology to monitor even the most subtle movement (microevents).
A QbTest produces an easy-to-read report which shows the test takers performance against an age and gender matched normative group. QbTest comes with full clinical training and supervision as standard. Learn more >>