Watch: Sydney Dodini & Dr. Aaron Dodini on living with ADHD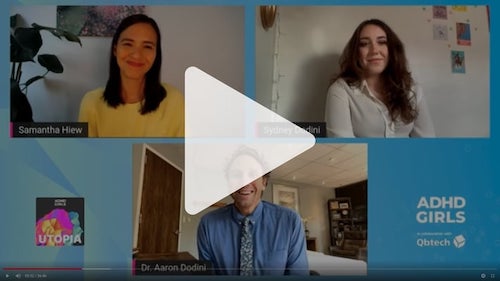 1-minute summary: In this three part series, Dr. Samantha Hiew, founder and director at ADHD Girls, interviews Dr. Aaron Dodini and his daughter Sydney Dodini about his life working with ADHD patients and her diagnosis at the age of 19.
Dr. Aaron Dodini: "Why is it so hard to diagnose ADHD?"
This question, posed by interviewer Dr. Samantha Hiew, has no simple answer. With over 20 years of experience in the ADHD treatment space, interviewee Dr. Aaron Dodini is well-equipped to explain exactly why ADHD evaluations can be so complex – and how to improve the experience for those being evaluated for ADHD across diverse backgrounds.
In this video, Dr. Dodini recounts his own experience with Sydney's diagnosis, as well as the realities others experience in their own ADHD evaluations. He and Dr. Hiew discuss the challenges people face as well as the best path forward, including using objective measures such as QbTest and other top tips for other parents of neurodivergent children.
Sydney Dodini: "I never felt that there was a name for what I was experiencing"
ADHD awareness isn't an all-or-nothing experience. When Sydney Dodini started noticing her ADHD symptoms as a young adult, she attributed them to lifestyle changes and a difficult course-load rather than a potential neurodevelopmental condition.
As Sydney explains in this interview, the path toward diagnosis can be tricky. Avoiding the "stigma of self-diagnosis" while adapting to life changes like a new university can change the way we see our struggles.
Some people may see themselves in Sydney's story. In this interview, Sydney discusses experiences with procrastination and the "nearsightedness of the brain" that other people with ADHD have felt, as well as her journey to a diagnosis. With the help of her father, and objective evaluation with QbTest, Sydney has found her path to success through stronger ADHD awareness. Watch the interview with Sydney and her father, Dr. Aaron, to learn more about their perspectives on living with and treating ADHD.
Sydney & Dr. Aaron Dodini
In this powerful and heartfelt conversation, Sydney and Dr. Aaron Dodini give a refreshing and frank perspective on living with and treating ADHD. The father-daughter duo are joined by Dr. Samantha Hiew, , who facilitates the interview using her own expertise in the ADHD treatment space.
About Utopia
This interview is part of the Utopia campaign, a collaboration between ADHD Girls and Qbtech. By shedding light on the unique lived experiences of neurodivergent individuals, Utopia aims to create a broader, more universal understanding of what it's like to experience life with ADHD.
For those living with ADHD, their families, and clinicians alike, this interview offers a wealth of real, relatable stories.
Alongside Dr. Aaron Dodini's years of experience treating neurodivergent patients, the conversation also encompasses personal anecdotes, reflections, and hope for the future of ADHD care.