Reshaping ADHD care; an Oxleas NHS Foundation Trust case study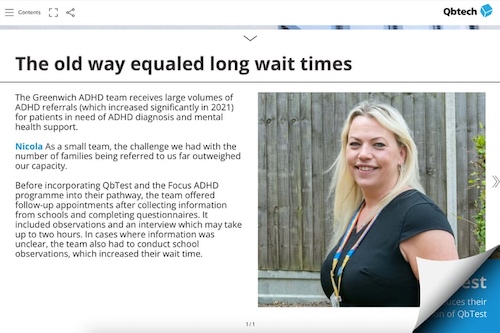 1-minute summary: This case study shares the story of how the Greenwich ADHD team for the Oxleas NHS Trust, tackled their ever-growing waitlist and wait time by incorporating QbTest, an objective, and evidence-based test, into their ADHD pathway.
Dr. Reynolds stated that: "It has certainly reduced the time significantly for the first appointment, and partly because of what it has enabled us to do alongside other screening tools that we've used when we triage.
We've been able to offer different kinds of follow-ups depending on what their QbTest report is telling us. There are cases where the QbTest and the questionnaires and the information from schools and parents indicate that a child meets the criteria or that they don't. If there's no evidence of any other co-morbidities, we offer a shorter follow-up appointment than what we would have done before implementing QbTest."
Talk to one of our experts to find out how Qbtech can help reduce wait times in your clinic.