Post-pandemic panic – notes for helping those with ADHD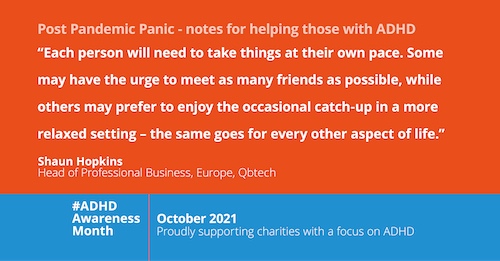 As part of #ADHDAwarenessMonth, Shaun Hopkins explores the challenges of the pandemic for those with ADHD, and how they can adapt as we come out the other side…
The pandemic has arguably affected mental health in a bigger way than any other global phenomenon. The full effect is indeed impossible to fully measure, but what impact has COVID had on the behaviors of people with ADHD? What are the new triggers that COVID has presented which exacerbate the symptoms of people with ADHD? And, as we transition to post-pandemic life, how can we support those with ADHD to adapt to 'normal' life?
A change of circumstances
In adults working from home and children temporarily home-schooling, this has presented new challenges that have previously not been well understood. First off, although many people have been forced into this environment, it's important to highlight that working from home (WFH) is not a new thing and many people opt for this to gain work/life balance.
Having said this, many people do not opt to work from home and would not ever choose to do so. It's in these people who have struggled the most, highlighting that WFH, without external motivators to help focus, organize, and help people be productive has turned the home environment into a hotbed of distraction. This can be especially challenging if WFH is something they're not used to, establishing boundaries, and managing distractions – here's some handy advice from ADDitude with some top tips for working from home.
Increased screen time
It's not hard to see how regular government briefings, regular changes to social guidelines, and updates on unemployment, infection rates, death rates, and hospital admissions have all contributed to increased anxiety, stress, and depression.
An obvious escape is the world of social media, screen time is at an all-time high. According to DataReportal, the average American spends 7 hours and 11 minutes looking at a screen every day. This is slightly above average and over half an hour longer than the British who average 6 hours and 25 minutes of screen time per day [1]. But is this the type of healthy escape people should be seeking? Evidence suggests that increased screen time on social media platforms can lead to higher feelings of negative self-worth. In fact, research suggests that there is a link between 'smartphone and social media use in the increase in mental distress, self-injurious behavior and suicidality among youth; there is a dose-response relationship, and the effects appear to be greatest among girls' [2]. Paradoxically, on average boys spend longer on their screens (Boys accumulated significantly more minutes (181.45 min per day) of daily screen time than girls (136.24 min per day) correlated with boys being more likely to have a computer or TV in the bedroom [3].
So let's look at the facts, we know that screen time is at an all-time high, so what should be done about it? And is it a bad thing? Cal Newton, the author of Digital Minimalism, makes a case that 'Technology is intrinsically neither good nor bad. The key is using it to support your goals and values, rather than letting it use you' [4].
Our advice? Encourage those with ADHD to try to use their smartphones more purposefully – even tracking the amount of screen time (which most phones do automatically – here's a handy guide) might bring some more awareness about how much it impacts their day-to-day life.
Exercise
The pandemic has invariably impacted our motivation to go out and seek regular exercise, which we know is important for those with ADHD. Walking is particularly effective – evidence suggests that going for a walk outside in nature increases endorphin release and reduces stress… and that's just one of the benefits.
It's well documented that those with ADHD are more likely to suffer from depression – regular walking can help prevent depression according to leading neuroscientist Prof Shane O'Mara [5]. Encouraging those with ADHD to move is a great start – in the workplace, for example, walking meetings are growing in popularity and encouraging employees to find more sustainable ways to travel such as walking or cycling will be beneficial both to the mind and planet.
Supporting those with ADHD post-pandemic…
People living with mental health conditions will need access to various forms of support as we come out of the pandemic [6]. Everyone needs to be kind to themselves – we are coming out of a pandemic which is not a common event. Each person will need to take things at their own pace. Some may have the urge to meet as many friends as possible, while others may prefer to enjoy the occasional catch-up in a more relaxed setting – the same goes for every other aspect of life. In fact, some people may prefer some of the changes as a result of the pandemic; a slower pace of life, spending more time with family or enjoying the simpler things in life such as gardening, getting out in nature, for example; something highlighted in this article: I've craved a slower pace of life – and want to make it permanent. We should be mindful of how people's way of life may have changed or shifted because of the pandemic.
A return to 'normal' will require those with ADHD to add structure to their day, give themselves time to plan and prepare, eliminate notifications and those pesky distractions. Variety is the spice of life – they can mix it up, work in bursts and remind them to be kind to themselves, breaks are key, and going for a walk or having regular movement breaks keeps the blood flowing to the brain and stimulated to focus on tasks.
Of the 2-5% of the population with ADHD, many are undiagnosed. Talk, look out for the signs, missed deadlines, not making appointments, anxiety at work, feeling out of control. Let them know where they can get support and that you are there to listen. Anyone concerned if they have ADHD should speak to their doctor. There is also some great organizations people can turn to for support:
US-based charities
Attention Deficit Disorder Association (ADDA)
National Center for Learning Disabilities (NCLD)
European based charities
ADHD Europe
Riksförbundet Attention
The ADHD Foundation
Read up. The more you learn about ADHD, the easier it will be to see how it is affecting your friend, colleague, loved one. Adjust your behavior accordingly, separate the person from the symptoms. Grade their challenges and help the person to develop a routine [7].
But most of all, be kind, be patient and be there to listen.
[1] Moody, R. (2021, June 8). Screen Time Statistics: Average Screen Time in US vs. the rest of the world. Comparitech. https://www.comparitech.com/tv-streaming/screen-time-statistics/
[2] Abi-Jaoude, E., Naylor, K. T., & Pignatiello, A. (2020). Smartphones, social media use and youth mental health. Canadian Medical Association Journal, 192(6), E136–E141. https://doi.org/10.1503/cmaj.190434
[3] O/Brien, W. (2021). Relationship between Gender, Physical Activity, Screen Time, Body Mass Index and Wellbeing in Irish Children from Social-Disadvantage. Child Care in Practice.
[4] Cal Newport. (2019, July 24). Digital Minimalism: Choosing a Focused Life in a Noisy World. https://www.calnewport.com/books/digital-minimalism/
[5] BBC. (2020, January 3). Don't Tell Me The Score – 8 reasons why we should all walk more. https://www.bbc.co.uk/programmes/articles/51SPhn5FKSYRnQNswfnWsN2/8-reasons-why-we-should-all-walk-more
[6] Support for Kids With ADHD During the Pandemic. (2021, August 9). Child Mind Institute. https://childmind.org/article/giving-kids-with-adhd-support-and-structure-during-the-coronavirus-crisis/
[7] Freer, B. (2018, December 6). How To Support Someone With ADHD. The Awareness Centre. https://theawarenesscentre.com/how-to-support-someone-with-adhd/