Working in ADHD care – Stine Flusund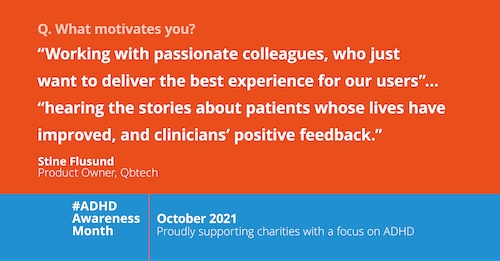 As part of #ADHDAwarenessMonth, we're asking our team to share their connection with the disorder and why they work within ADHD Care. Today, Stine Flusund, Product Owner, shares her motivation to work for Qbtech.
Why were you interested in working for Qbtech?
I felt like Qbtech really helps people with their products, and I wanted to be part of that. In addition to that, the company culture seemed really good – it was clear to me that everyone who works here does that because they want to contribute and because they really care.
What motivates you?
There are a lot of motivating things working at Qbtech, from working with passionate colleagues, who just want to deliver the best experience for our users, to hearing the stories about patients whose lives have improved, and clinicians' positive feedback.
What have you learned about ADHD since working for Qbtech?
Something I've learned is that, even though the number of diagnoses of ADHD is higher in boys, adult ADHD tends to be diagnosed more evenly between men and women.
How can we help patients in the future?
Most of what I know about ADHD I have learned here, and I am eager to learn more so that I can ensure we build the best solutions for our users.