Working in ADHD care – Anna Brasile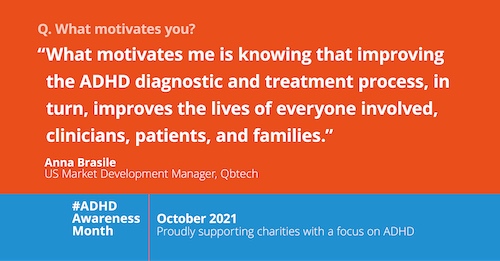 As part of #ADHDAwarenessMonth, we're asking our team to share their connection with the disorder and why they work within ADHD Care. Today, Anna Brasile, US Market Development Manager, discusses her background in ADHD and why she decided to work for Qbtech.
How did you hear about Qbtech?
After six-and-a-half years of assisting with psychological evaluations for Social Security disability, there was probably not a single day in which ADHD wasn't listed as a claim for clients. At my previous job, we didn't use objective testing specific to ADHD and were reliant on rating scales which came with their own issues (illiteracy, comprehension problems, biased responses due to secondary gain motives, lack of teacher ratings).
We used testing to assess intellectual disabilities and learning disabilities, but there were many cases in which we just had no clear answer. When I learned about QbTest/QbCheck I thought of how many instances we could have benefited from the data produced and how other clinicians were probably experiencing the same difficulties with rating scales. Qbtech offered me a way to improve processes that so desperately needed to be changed.
What motivates you?
At my previous job, I interviewed thousands of people with connections to ADHD, whether they had it themselves or their child did (or both). The common thread in these accounts was how inefficient and frustrating the process of ADHD diagnosis and treatment was for everyone involved.
Between the waitlists for specialists, trying to coordinate transportation to multiple appointments (living in a rural area can make that quite a long trip for some), and the excruciatingly long process of finding the right medicine and dose, many patients give up before ever finding the best solution for them.
I regularly heard stories of untreated ADHD leading to further issues (failing grades, trouble at school, impulsive decisions, etc). So, what motivates me is knowing that improving the ADHD diagnostic and treatment process, in turn, improves the lives of everyone involved, clinicians, patients, and families.
What have you learned about ADHD since working for Qbtech?
SO MUCH! I thought I knew quite a bit with my previous work experience, but it was just the tip of the iceberg and I continue to learn new ADHD-related information nearly every day. One of the most surprising things I learned since joining Qbtech and educating myself on all-things ADHD is the health complications associated with the condition.
I recently wrote a piece for my LinkedIn about the connection between ADHD and obesity after finding some research on the topic that was eye-opening. Because of the high risk of obesity in untreated ADHD patients, there is also a high risk of further health complications that result from obesity. Many people think treating ADHD is optional, but sometimes not treating it can be life-threatening.
How can we help patients in the future?
I am excited to expand the use of QbTest throughout the nation with clinicians of all types so that patients in under-served communities have access to specialized care without having to spend the time and money traveling far distances for quality ADHD care.
Do you have any personal connection with ADHD?
I do! My mother has ADHD and did not receive a formal diagnosis until her late-50's (such a common issue with under-recognition in females and in previous decades). Her ADHD journey was a challenging one and I think had her providers had access to QbTest, things would have been much smoother.
My brother also has ADHD and throughout our childhoods, I remember him trying nearly every medication available and having very little success. In the '90s there were limited interventions that addressed the executive functioning issues of ADHD, so he struggled significantly. Even into adulthood, the impulsive decisions caused frequent problems for him. Additionally, my significant other's son has ADHD which I recognized early into our relationship.
However, his son isn't hyperactive and doesn't present with significant behavior problems. During the early stages of the pandemic when the school went virtual, I helped him with homeschooling (3rd grade at the time). I saw how frequently he required redirection to absorb information which is impossible for a teacher to do in a class full of kids, so I pushed for a formal assessment.
That process took longer than it should have thanks to delays in the return of rating scales and my significant other's extremely busy work schedule. I think had we known about QbTest at the time, we could have had his son diagnosed and treated before the failing grades came back upon his return to in-person school for the 4th On a bright note, after finally receiving treatment, he completed the 4th grade and even made honor roll!