QbTest – at a glance
A brief introduction to QbTest
QbTest is a computer-based task requires someone to respond to shapes that appear on the computer screen, using a  responder button. Throughout the test responses as well as non-responses are recorded. Meanwhile activity is captured by an infra-red camera. This simultaneous measurement is a unique feature of the tests, distinguishing them from other computerized test designed to measure ADHD symptomatology. Watch the video above for a brief overview of QbTest from the Academic Health Science Network (AHSN) for their initiative Focus ADHD.
A strong evidence base
Since our inception, we have opened ourselves up for independent evaluation. Why you may ask – the reason is simple. We want to learn and grow – the only way is with honest feedback.
We never sit still, and our products are continually being improved to bring you, the clinician, the best possible objective data on ADHD symptoms – the only test that measure all three core symptoms of ADHD: inattention, activity and impulsivity.
Since the early 2000′ s we've been featured in more than 35 studies. The largest being the AQUA study , a randomized control trial (RCT) demonstrating QbTest's ability to improve clinical confidence in diagnostic decision making. Dr. Charlotte Hall, Clinical Trial Manager and Senior Research Fellow at MindTech at the University of Nottingham, who led the study explains the findings:
Adding objective data to your clinic
QbTest provides unique insights on the presence or absence of ADHD symptoms. By using a computer-based task combined with activity readings, the tests measure the three core symptoms of ADHD: hyperactivity, inattention and impulsivity. Integrated with rating scales they help you to delve deeper into the nature of the impairments.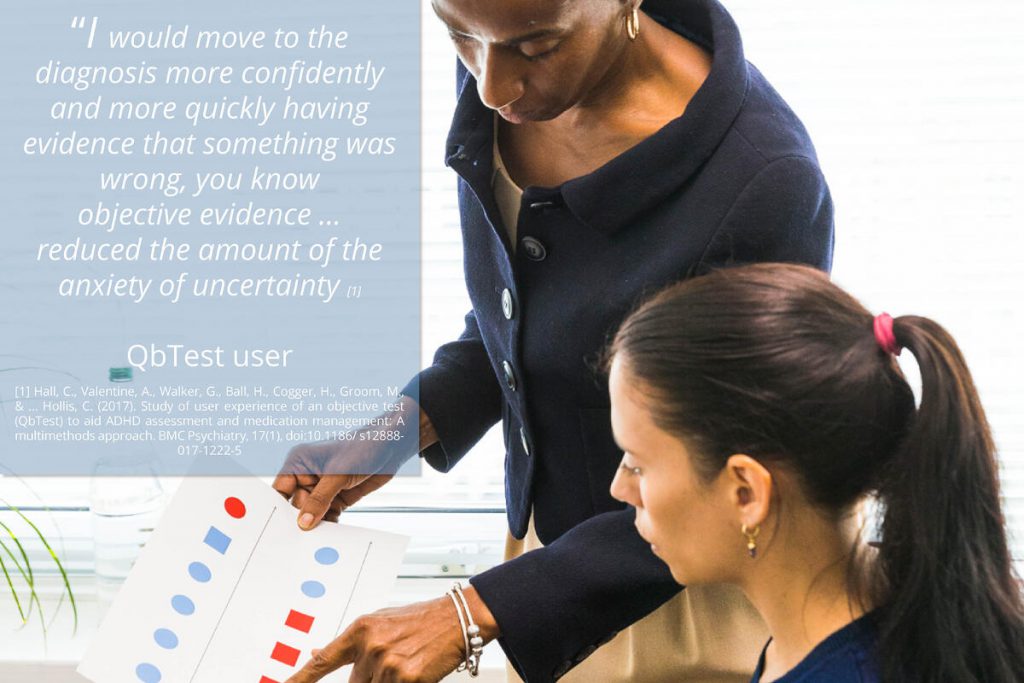 Comprehensive results
On test completion, one or more detailed reports are generated instantly, highlighting the individual's performance across all three core symptom domains and providing an objective view about if/how these symptoms affect them. In QbTest, the individual's performance is compared with an age and gender matched group known not to have ADHD.
Clinical support based in Sweden
QbTest customers are supported by our team of clinical advisors who are on hand to discuss cases and test reports. The feedback from clinicians is that they find this especially useful for more complex cases, or where the symptoms are borderline symptomatic of ADHD. Learn more about our clinical support – book a 15-minute call with one of our clinical advisors.
Find the right ADHD test