When parent and teacher reports disagree on ADHD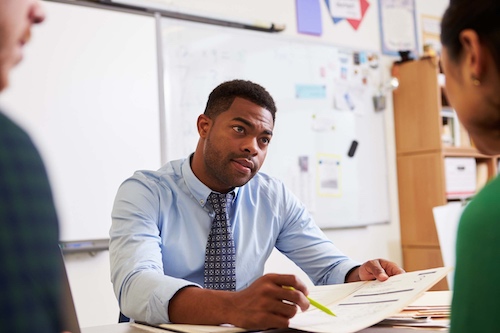 1-minute summary: Differences in reporting between parents and teachers on ADHD can present a challenge for diagnoses. This is particularly true where there is significant disparity between perceptions of behaviour in different environments. Objective data from QbCheck and QbTest can now be used alongside parent and teacher reports and clinical interviews to increase clinical confidence in diagnostic decision making.
The reporting of significant problems at home with minimal or no difficulties reported by teachers and vice versa is a familiar situation for clinicians and can present a dilemma when trying to reach a diagnostic decision confidently. This can lead to delay in diagnosis, support and treatment, whilst increasing the risk of over- and under-diagnosing ADHD.
Researchers have similarly described the very modest correlations between informants in different settings, including parents and teachers, and the implications this can have for diagnostic decision making. A study in the US specifically considering the impact of interrater reliability on the diagnosis of ADHD reported that for their clinical sample poor interrater agreement decreased diagnostic rates for all three types of ADHD when the two-setting requirement of the Diagnostic and Statistical Manual of Mental Disorders – 5th edition (DSM-5TM) was strictly enforced. [1]
Encouragingly, there is now an increased awareness and understanding about the factors behind such disagreements, including family dynamics, child characteristics, differences in expectations and tolerance of certain behaviours. Not forgetting that behaviour can simply vary across settings. More recently, studies have reported on the gender [2] and birthdate bias [3] affecting referrals and diagnosis and we are now learning more about how such bias can be introduced through parent and teacher reports. Overreliance on subjective information is undesirable and now that proven objective tests are available we believe that an ADHD assessment process should be considered incomplete without such objective data.
How disagreement between parent and teacher reports should be addressed in daily practice, however, remains uncertain and there is surprisingly little clinical guidance about how to reconcile these differences. Furthermore, the unfortunate reality is that it is not only a challenge for the clinician to synthesise discrepant information into a diagnosis and treatment plan, but the credibility of individual parent and teacher reports may be challenged as well. In some situations, one might even be tempted to ask, 'Who is right?'
Whilst conflicting reports are problematic, in some cases contrasting opinions can provide crucial insights for diagnostic decisions: both parent and teacher can be right – a child might simply present differently at home and school. Teacher and parent reports remain important, however, there is a need for a new perspective. In other words, 'How can we interpret the differences, recognise the opportunities and address the uncertainty?'
To cut through multiple biases and other uncertainties, more and more clinicians are combining objective data from the ADHD tests, QbCheck and QbTest, with parent and teacher reports and clinical interviews. Furthermore, the integration of QbTest in the ADHD care pathway has shown increased clinical confidence in diagnostic decision making, speedier diagnostic decisions and improved understanding of symptoms for both families and clinicians.
Wolraich, M. L. et al. (2004). Assessing the impact of parent and teacher agreement on diagnosing attention deficit hyperactivity disorder. Journal of Developmental and Behavioral Pediatrics, 25, 41-7.
Meyer B. J. et al. (2017). Sex Differences in the Meaning of Parent and Teacher Ratings of ADHD Behaviors: An Observational Study. Journal of Attention Disorders, https://doi.org/10.1177/1087054717723988.
Sayal, K. et al. (2017) Relative age within the school year and diagnosis of attention-deficit hyperactivity disorder: a nationwide population-based study. Lancet Psychiatry, 4 (11), 868-875.