Maximizing Telehealth — a solution for ADHD care during the pandemic and beyond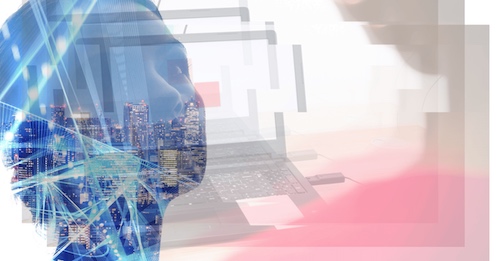 Written by Anna Brasile
Early into the COVID-19 pandemic there was a "nearly 60% reduction in office visits" for primary care providers in the US [1]. Additionally, polling from the National Council for Behavioral Health found that 54% of organizations were forced to close healthcare/treatment programs [2]. The key to clinics surviving this reduction was to offer a virtual modality to receive care for as many services as possible.
This was also the case for clinics using our objective ADHD testing device, QbTest. More than 60% of clinics using QbTest were forced to pause or discontinue the use of this in-office assessment method for initial diagnosis and monitoring of treatment. This left clinicians with less data on their patients' core symptoms and response to their treatment, so we provided a solution: QbTest Telehealth powered by QbCheck*.
In the chart below, the black line represents the projected testing frequency for 2020 (based on data from 2018 and 2019), prior to knowledge of the pandemic. Represented by the green line in the chart, in-person testing frequency decreased dramatically between February and April.
In April, when telehealth testing was released to our QbTest customers, testing frequency began increasing and reached the level of recovery in June. Of note, in-person testing alone still has not reached normal levels. This indicates that the overall testing (both telehealth and in-person) frequency is now surpassing projections and is directly driven by telehealth.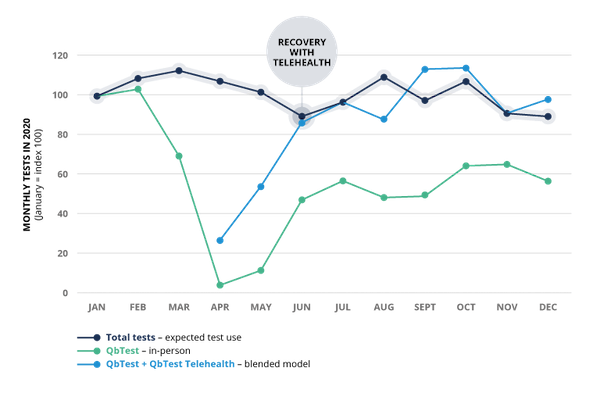 While it isn't all about the numbers, those numbers represent patients being provided comprehensive ADHD assessments. Being able to provide that care during these difficult times is crucial to patient success, particularly when ADHD patients' learning and working environments are drastically changing.
Even post-pandemic, telehealth testing may continue to serve as an important modality of care, as being able to provide care without interrupting the busy lives of patients is extremely beneficial. Telehealth testing also allows clinicians to provide care to under-served communities and new populations across the state in need of specialized care.
"When the pandemic happened, I was really concerned that I wouldn't be able to continue to see patients and not sure if my independent practice would survive.

I have been able (with QbTest Telehealth) to see even more patients than before, have not had to take patients out of school or work for testing and continued to provide quality care"
April Green, APRN, FNP-BC, Focus of Tampa Bay
"Patients have commented that they like the fact that they can fit in the assessment around their schedule and the convenience of being able to do it at home or wherever is more practical for them to do it"

Karen L. Abrams M.D. Mental and Behavioral Health Physician Supporting Philadelphia and the Main Line
Read more about QbTest Telehealth: Hands on – user experience feedback on QbTest Telehealth
* QbTest Telehealth provides in-clinic testing using QbTest, remote testing powered by QbCheck with clinically led specialist training [3].
Book a discovery call
Learn how QbTest Telehealth, powered by QbCheck, can help you deliver quality ADHD care remotely:
Sources:
[1] Mehrotra, A., Chernew, M., Linetsky, D., Hatch, H. and Cutler, D. (2020). What Impact Has COVID-19 Had on Outpatient Visits? [online] www.commonwealthfund.org. Available at: https://www.commonwealthfund.org/publications/2020/apr/impact-covid-19-outpatient-visits.
[2] National Council for Behavioral Health Member Survey Member Survey. (2020). [online] . Available at: https://www.thenationalcouncil.org/wp-content/uploads/2020/09/NCBH_Member_Survey_Sept_2020_CTD2.pdf?daf=375ateTbd56.
[3] Ulberstad, F, Boström, H, Chavanon, M‐L, et al. Objective measurement of attention deficit hyperactivity disorder symptoms outside the clinic using the QbCheck: Reliability and validity. Int J Methods Psychiatr Res. 2020; 29:e1822. https://doi.org/10.1002/mpr.1822