Working in ADHD Care – Akash Chouhan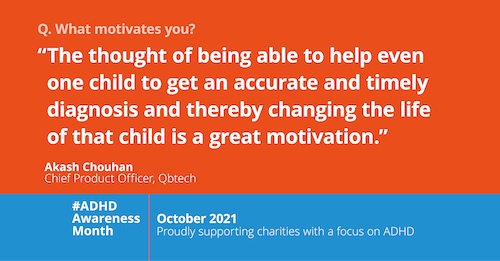 As part of #ADHDAwarenessMonth, we're asking our team to share their connection with the disorder and why they work within ADHD Care. Today, Chief Product Officer, Akash Chouhan, explains his motivations and connection to ADHD.
Why were you interested in working for Qbtech?
Qbtech is one of the few companies that are trying to use the power of technology to solve real issues and not merely business problems. I was very excited about the idea of joining a company that not only works on the latest technology but uses it for a positive impact.
What motivates you?
ADHD affects people of all age groups but it is particularly concerning to see how it affects the kids and society at large if help is not received on time. The thought of being able to help even one child to get an accurate and timely diagnosis and thereby changing the life of that child is a great motivation.
What have you learned about ADHD since working for Qbtech?
I have started to understand the systematic challenges that we see in healthcare systems around the world related to ADHD diagnosis and support. Additionally, the lack of proper awareness in society (of ADHD), has been particularly eye-opening. Listening to some real stories of struggles in people's lives due to ADHD has been a very emotional realization. The good news is that change is happening and Qbtech is leading the way.
How can we help patients in the future?
I envision a future where patients can get all the help they need regarding ADHD at their disposal; on-demand and virtual. We need to keep the patient at the center and build solutions around them, something which the existing healthcare systems may not do very well.