Asking for help – Andrea's story (part four)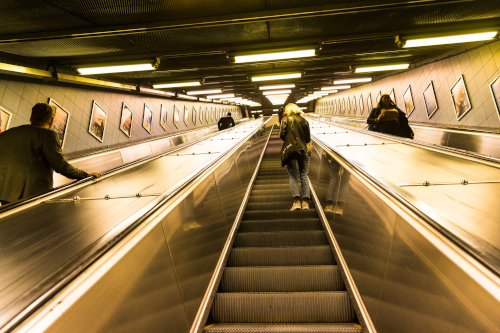 Asking for help is perhaps the hardest thing for any of us to do. When you do ask, however, you can be surprised at the amount of quality care and support available for girls and women with ADHD. For Andrea Michaels, asking for help opened the door to an organization that she describes as 'life-changing' in supporting her with ADHD.
Getting help
Since my diagnosis, the Centre for ADHD & Autism Support (CAAS), has been life changing. Minoo, (their Family Support worker and Adult ADHD Coach) and her team have designed strategic sessions that run from 6-8 weeks, focussing on the skills I've mentioned: communication, assertiveness, procrastination – all of the skills I've developed – they are fantastic. The other course they run is a monthly support group. It's not just something you turn up to, have a coffee and a chat. What makes these sessions different is the fact that they are facilitated by people that understand ADHD and the difficulties that come with it. There is no judgment. They offer very practical support and advice: the links of where you need to go, how you need to speak to your doctor as just a couple of examples.
One of the things that stands out for me is the support they provide for that initial consultation with your doctor. People often tighten up and feel nervous speaking to their doctor about ADHD. They help you think things through. For instance – how did you speak to them? Did you take someone along with you? It's those little things that we don't think of, but they make a difference. I would never have known, for example, that I could take somebody with me to a job interview because I have ADHD. Again, that makes a massive difference because it removes all those barriers and anxiety; I can actually have an interview with somebody and be clear in my communication rather than becoming overwhelmed and not getting a job that I know I'm perfectly capable of doing. That's when the people at CAAS step in and where they can change people's lives.
There is more
I think therapies have been very effective when they've been tailored for ADHD. Mindfulness and Cognitive Behavioral Therapy (CBT) both have variations designed for ADHD. Combined with the earlier mentioned strategy sessions or even strategy coaching, I think these therapies are really valuable for people like us. After going to these sessions, it's then taking what I've learned and practicing it… you need to put it into practice. It's not just turning up and saying, "I know that now – why is it (not) working?" You need to put the hard work into it. Once you've done it and you see the results, it gives you a feeling of resilience as well.
Now I don't procrastinate as much. I don't get down after setbacks. I've got the mindset of "okay, today it was a hiccup, let's pick it up again tomorrow". I also learned things about myself. Although I can come across as assertive, it can be portrayed as me being aggressive or arrogant and that's not always the case. I'm learning how to communicate and understand different situations. I can't speak for everyone with ADHD, but we can get ourselves into pickles because we've said something wrong, miscommunicated it or didn't understand it.
So, the therapy has helped me feel more confident in asking questions and not being afraid to ask for help or ask for something that you believe removes the barrier, whether it's in your personal life or your work life…
Follow us on on Twitter or LinkedIn to get updates on the next release of Andrea's blog.
Andrea was supported by the Centre for ADHD & Autism Support (CAAS). CASS provides a range of services to support anyone affected by either ADHD and autism. Led and run by people with first hand experience of the conditions they understand the issues facing their service users .CAAS are based in North West London and provide information, training, support groups and practical help.