Why Should I Switch to QbTest?
QbTest is a market-leading objective ADHD test, supported by over 35 independent research studies and trusted by clinicians around the globe. If you're a healthcare professional looking for a standardized, objective technology to be used as part of ADHD assessment and treatment monitoring, QbTest is the solution for you, your practice, and your patients*.
Choosing digital health technology that benefits the efficiency of your clinic but also the quality of care your patients receive isn't a decision that should be made lightly. So, what benefits does Qbtech offer?
Choose an ADHD test that is evidence-based
Health tech should be supported by credible evidence that clearly states the clinical significance of their products.
NICE published its Medtech innovation briefing [MIB318] for QbTest, finding that:
QbTest saves clinician time and NHS money with no loss of accuracy in assessing for ADHD
Clinicians have greater confidence in their diagnostic decisions
It can mitigate gender bias (Reh, et al. 2015)**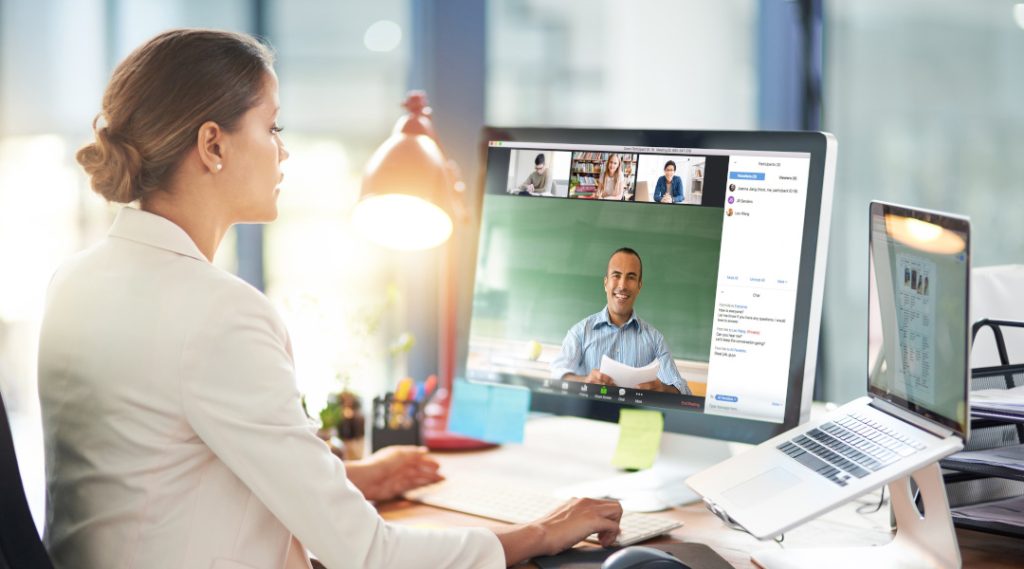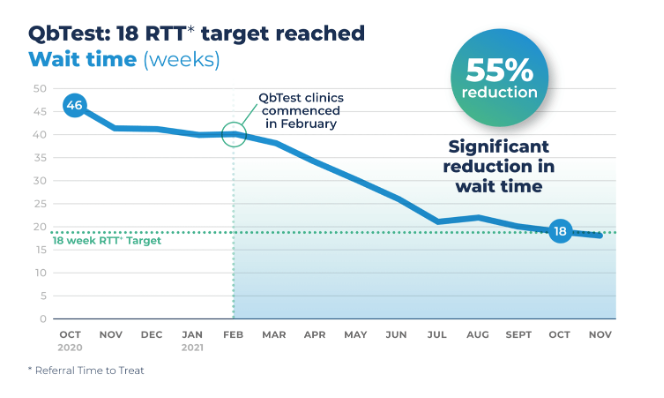 Gathering data insights to improve healthcare
Allowing healthcare organizations to analyze the data they gather will help give clinicians insights into their pathways as well as identify any pain points. Discover our blog to find out how our technology has innovated healthcare.
Easy to interpret reports
Neurodivergent patients require accessible information. Particularly as ADHD is comorbid with other psychiatric disorders, any diagnostic tool must be straightforward and easy to understand so that it is measuring what it is designed to measure. According to the East Midlands Academic Health Science Network, most patients found that QbTest is useful in helping them to understand their symptoms, particularly when clinicians talk them through the reports.
Patient-centered healthcare
We believe that patient-centered care is vital in providing the best possible outcome for patients. When clinicians use QbTest alongside other clinical measures, to rule in or rule out ADHD as a possible diagnosis, our reports are a visual way to walk patients and their families through the results and explain why they are experiencing difficulties in comparison with their peers. In the same way, clinicians can also reassure those who don't have ADHD and give insight on how they performed on the task. QbTest can also be used to monitor the efficacy of treatment prescribed to manage symptoms. This can help clinicians to titrate ADHD medications more accurately.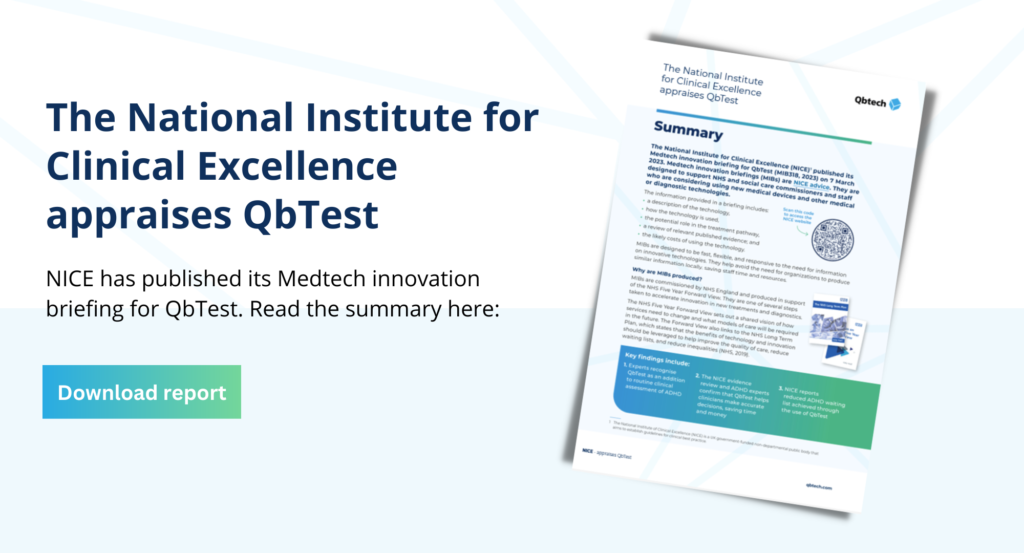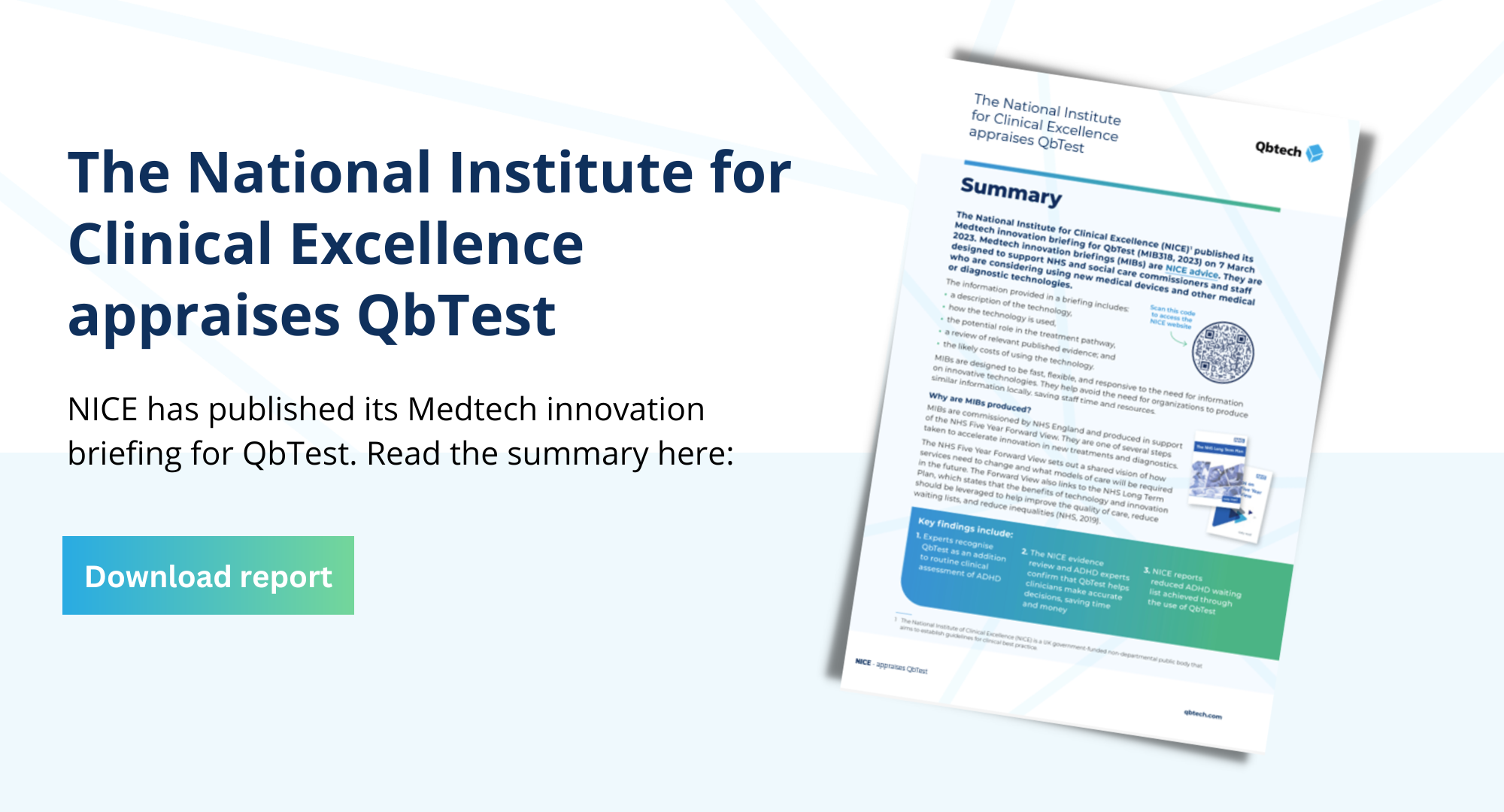 *QbTest is not meant to be a standalone tool for diagnosing ADHD. Instead, it is designed to be added to the assessment process along with a clinical interview and rating scales 
**Reh, V., Schmidt, M., Lam, L., Schimmelmann, B.G., Hebebrand, J., Rief, W. and Christiansen, H., 2015. Behavioral assessment of core ADHD symptoms using the QbTest. Journal of attention disorders, 19(12), pp.1034-1045.
Discover how QbTest can streamline your care pathway and improve your patient's quality of care